Will a Shelf Bra Work for Me?
While built-in bras are often referred to as shelf bras, this terminology is incorrect. Instead, it is a very specific type of bra that is also a kind of lingerie. It includes wire supports but does not have any kind of material covering the top of the breast. As such, these bras are not practical for everyday use, though many lingerie stores around the world sell a large selection of them. Whether or not a shelf bra will work for you depends upon the type that you choose.
Some of these bras include neck straps that are good for women with larger breast sizes. Women who have smaller breasts may want to consider a bra that includes extra padding. Since these bras come in a number of sizes, shapes, colors, and fabrics, finding the right one for your cup size shouldn't be difficult.
Even though the shelf bra was built for lingerie purposes, many women wear these bras underneath clothing to create a natural look. They will provide enough support to wear any top without the complete support of a traditional bra.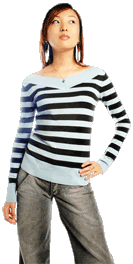 Unlike true shelf bras, built-in bras do cover the top of the breasts. Although often mistakenly given the name, built-in bras are sewn directly into garments such as tank tops and bathing suits in order to provide additional support. They may include wires, though most built-in bras are simply made from tight fabric that constricts the breasts.
Shelf bras come in a number of different sizes, including plus sizes. While women with larger breasts could not wear these bras in the past, this is no longer the case, and many different manufacturers have begun creating ones that can easily support larger breasts. The trick to purchasing the right size is to arrange a proper bra fitting. By visiting a store that offers free bra fittings, determining the bra size that is right for you will become easier.
Wearing the proper bra size will help to shape and lift the breasts, while wearing a bra that does not fit properly will not create a flattering silhouette. If you are unsure of your correct bra size, it is not a good idea to purchase a shelf bra from an online retailer. Instead, visit a local retail store that specializes in bras so that you can purchase the right bra for your unique shape.
AS FEATURED ON:
AS FEATURED ON:







Woman with hand on her hip