How Do I Choose the Best Blush Color?
Choosing the best blush color depends on your skin tone, hair color, and even wardrobe preference. For example, people with sallow or yellow undertones to their skin may prefer to use a blush with a pink tint to it. Generally, the color pink counteracts yellows in the skin, making the skin less likely to take on a sallow appearance. A good indicator of which color to use is to match it with how the face appears after mild exercise.
People who have winter complexions tend to have rosy or blue undertones to their skin. In addition, these people typically have dark hair and dark eye color. Skin tones for people with winter complexions range from very pale to sallow or yellow. Those with winter complexions may want to use a blush color with a pink or blue undertone to it. Conversely, orange-toned blush is not the best choice for these individuals.
For someone with a summer complexion, a blush with mauve or golden undertones will enhance the complexion, where one heavily hued with pinks or blues may not be as attractive. The consistency of the blush can also influence how it looks on the skin. Powder blushes tend to fade more quickly than rouges, which are highly pigmented and more intense and vibrant. In addition, many cream, gel, or rouge blushes are water and oil resistant.
Powder blushes sometimes do not stay true to their natural color. This can be caused by oils in the skin or from exposure to water. To keep blushes from changing colors on the face, people often use makeup primer, which is a lotion that readies the skin for foundation makeup and blush. The primer landscapes the complexion so that makeup does not seep into the pores or rub off easily. In addition, primers can usually be purchased anywhere blushes and other cosmetics are found.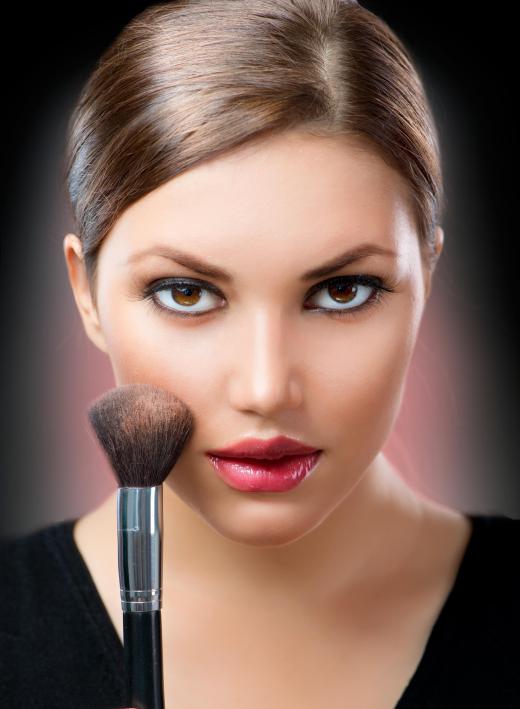 Age may also play a role in choosing a color of blush. People who are older or more mature, may prefer a blush that is red and bright. Young people, on the other hand, might choose a blush that is lighter in texture and not so red. For these individuals, a facial bronzer might be a good substitute for blush or rouge because is provides a warm sun-kissed glow rather than providing a shock of intense color.
AS FEATURED ON:
AS FEATURED ON:







By: dulsita

Makeup blush is available in several colors.

By: Vladimir Voronin

The best blush color will complement one's skin tone and hair color.

By: Subbotina Anna

Some blush is sold in a palette, which allows users to alternate or combine colors.

By: phasinphoto

Those with a summer complexion should invest in blushes with mauve and golden undertones.