How Do I Choose the Best Cheap Nail Polish?
To purchase cheap nail polish that looks good on you, determine which colors favor your skin tone. Don't shop at salons or boutiques for your nail color if you want to save money. Cheap nail polish can be found at dollar stores or discount department stores. Don't buy off-name brands, however, because the quality of the nail polish may be poor. Check the ingredients in cheap nail polish and avoid fragrances that cause sensitivity.
Choosing cheap nail polish doesn't necessarily mean compromising quality, if you look for a good sale. Often you can find name brand-nail polish at a discounted price if you know where to shop. Inspect the nail polish bottle carefully for signs of age. Settling of color at the bottom of the bottle could indicate the polish has been sitting on the shelf for a very long time.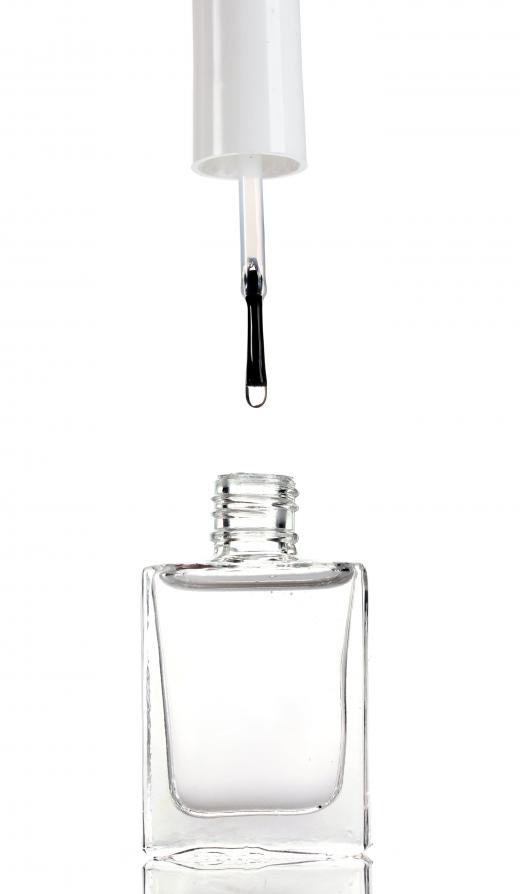 Some discount stores have a decent variety of cheap nail polish colors. Choose your nail colors according to the season. Wearing vivid and bold colors in the wintertime may not be a good idea. During winter, you should choose nail color with a subtle hue. Conversely, during summertime, don't be afraid to be more daring and bold with your nail color.
If you have dark or olive skin tone, choose nail colors such as red, orange, or purple, all of which should look attractive on you. If your skin tone is fair to medium, you should avoid bright red nail color. Choosing tans, pinks, and other pastels will enhance your natural complexion.
Consider the amount of jewelry you normally wear. If you tend to wear rings and bracelets, tone down the look with a pale or subtle shade of nail color. Wearing bold nail polish might clash with your fashion accessories and create a disorganized look.
Nail colors come in various finishes as well. Whether you prefer matte or pearl finish is a matter of personal preference. Choosing the right texture and finish can be decided with the help of a professional. Ask for advice at the salon, but don't feel pressured into buying expensive nail color.
When buying cheap nail polish, you might not have the option of choosing a preferable nail brush. Most cheap nail polishes come standard with a small brush. Exceptions to this rule do apply, so shop around for polish that includes a proper-sized application brush. When buying cheap nail polish, avoid products made with formaldehyde, which can cause sensitivity in people with allergies and asthma.
AS FEATURED ON:
AS FEATURED ON:







By: Africa Studio

Cheap clear nail polish.

By: Dmytro Titov

Name brand polishes can often be found at discounted prices.

By: larisabozhikova

Basic colors, like various shades of red, can be found at low prices.

By: Alliance

Choosing cheap nail polish does not necessarily mean compromising quality.