How do I Stop Frizzy Hair?
Frizzy hair is a common problem. For some people, the humid days of summer make it worse, while others find that dry air in winter can really cause frizz. Other people just have naturally frizzy hair. There are a few steps to try in order to stop frizzy hair, and to make the hair look smoother and sleeker; the best is to make sure that hair is conditioned well.
The first step in order to stop frizzy hair takes place in the shower. Frizzy hair is often caused by dry and damaged hair; hair can become dry and damaged after too-frequent shampooing or heat styling. Try to take cooler showers rather than scalding hot ones, which can strip the hair of its natural oils, and only shampoo the hair as often as needed. You may only need to shampoo your hair every other day, or every few days, particularly if you have very curly hair.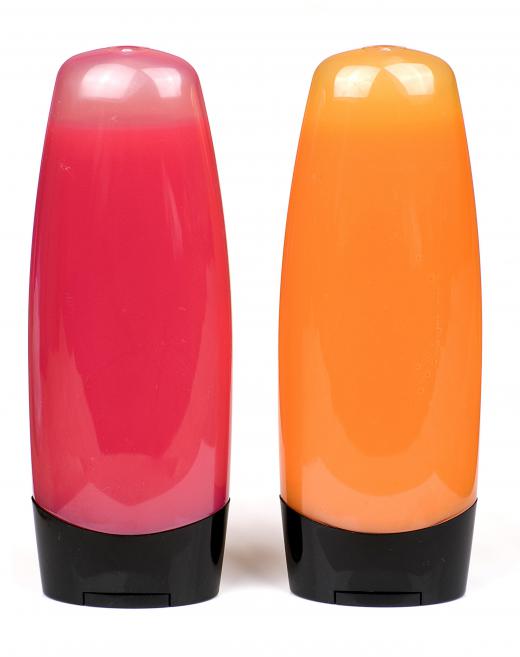 Choose a shampoo and conditioner designed for frizzy, dry hair, and remember to condition every day. Once a week, a deep conditioning treatment may also help to stop frizzy hair and improve the health of the hair. After hair has been washed and conditioned, towel dry it as much as possible by gently squeezing sections with the towel. Do not rub the towel all over the head, which can cause even more frizz.
Leave-in conditioners, styling creams, and anti-frizz creams can all be great products to stop frizzy hair. In general, apply these products when the hair is still damp, then a little bit more after hair is dry in order to stop frizzy hair in its tracks. Dry hair with a blow dryer if necessary, on a warm but not hot setting, with the dryer aimed down the hair shaft. To calm frizz, and help to seal a style in place, quickly blast the hair with cool air after it is dry; most hair dryers have this feature.
Avoid heat styling with straightening irons or curling irons as much as possible, and try to use them on a low heat setting if you need to use them. If frizzy hair occurs during the day while you are at work, for example, rubbing a small bit of hand lotion into your hands, and then rubbing the hands through the hair can help to calm frizz. Just be careful not to get the lotion near the hairline or up near the scalp, which can make the hair look greasy.
AS FEATURED ON:
AS FEATURED ON:







By: Dessie

Using a moisturizing shampoo and conditioner can help smooth the hair.

By: volff

Overzealous towel dying can cause breakage.

By: Daria Filiminova

Using a flat iron on a low heat setting can tame frizzy hair.

By: fmarsicano

Getting regular trims may help prevent dry, frizzy hair.

By: ia_64

To stop frizzy hair, a hair dryer may be used if necessary on a warm, but not hot setting.

By: esp2k

Shampooing every other day or every few days can help prevent hair from becoming frizzy.

By: thelosteyeball

Hot oil treatments can be used to tame dry, frizzy hair.