What are the Different Styles of Slips?
The progenitor of the modern slip is the chemise or shift, a full-length garment with sleeves, worn under the clothing by ladies in the 15th century and onward. The shift could also be used as a nightgown, and it might be accompanied from the 16th century onward by petticoats, bloomers, and corsets, which all helped to define and keep a woman's shape underneath a dress.
The modern slip, now called a full slip, was a dressed down version of all this additional underwear. They usually do not have sleeves, are full length, and are made in fabrics like cotton, linen, or silk. They provide protection from possibly rough clothing, allow clothes to lie flat, and might provide corseting, or breast support. Underwear or bras might still be worn with full slips.
One change in lingerie was the idea of offering half-slips instead of full ones. This type starts at the waist and can be any length required. They can often be purchased with a camisole top so that when coverage is needed on the full body both pieces could be worn. However, with many women wearing pants, a camisole and bra might be the only needed coverage for sheer blouses.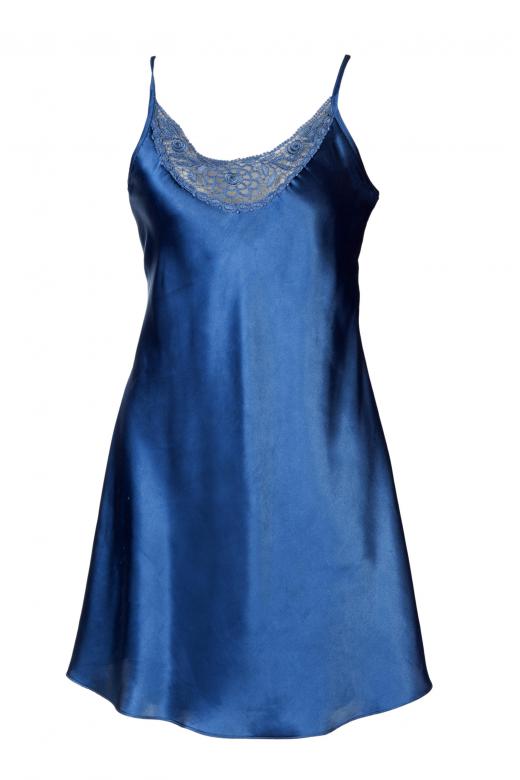 Half-slips came to be offered in a variety of styles and lengths. Some even echoed the bloomers or pants worn by women in much earlier times and were excellent for wear with sheer gauchos. Some from the 1970s onward were sold with one length, but with various cut marks, which could be used for shortening them to the desired length. Further, with the advent of mini-skirts, many women were grateful to find mini-slips that were the right length for such styles.
Full slips are still sold, but are often less popular. These may have boning or breast cups, which allows women to wear them without a bra. Alternately, some are made of sheer nylon lace. For a dress that requires one, full slips are often the best bet, since they won't show a middle line separating a camisole/half slip combination. On the other hand, owning a few camisoles is not a bad idea for use under sheer garments, when one wears pants.
Slips can be made in a variety of fabrics. Polyester, nylon, satins, silk and cotton all have their uses. Cotton is the most breathable, and can be quite comfortable to wear. Manmade fabrics, on the other hand, tend to be smoother. Some clothing manufacturers are kind enough to providing a full or half-slip lining in clothing that makes the wearing of slips somewhat pointless.
These undergarments also come in different designs. Some are extremely simple. Others boast lacy trim, slits and a variety of colors. Typically, the only colors one needs are nude, white, and black. Nude slips are best under pastels and any dark color except black. White should be worn under white, and black works best under black clothing. The goal is to not see the slip.
However, some of the more fancy slips almost beg to be seen. One with lacy slits might show a bit as one is moving around. Generally a small peek at a slip is considered fine, but it should not be visible at all times.
Many people don't wear slips, which can lead to unfortunate circumstances when garments are sheer. Lightweight fabrics often are highly sheer, and will definitely show off things like panties and bras, especially when one stands in heavily lighted or sunlit areas. It's thus considered proper to have either appropriate lining or undergarment for garments that might be sheer.
AS FEATURED ON:
AS FEATURED ON:







By: Gordana Sermek

The chemise, which is similar to a modern day slip, was worn in Victorian times to protect clothes from skin.

By: Ruslan Kudrin

A full slip may be worn as a nightgown or under a dress.

By: papa

Slips may be considered a type of lingerie.