What Are the Different Types of Beauty Supplies?
An abundance of beauty supplies is available, including hair, makeup and nail products. Beauty supplies for hair include products to style, color and cut. Makeup options include foundation, eye shadow and lipstick. Manicure, cleansing and hair removal supplies are also available.
Makeup foundations can be used in conjunction with concealers and finishing powder. Blush, bronzer and shimmer can top off foundation. Eye shadow, mascara and eye liner are also makeup supplies. Artificial eyelashes, eyelash adhesive and lash tint are also available. Lipstick can be used to add color, shine or condition lips.
Hairstylists usually offer an array of coloring products, including permanent, semi-permanent and temporary hair color. Other hair color beauty supplies include tint brushes, applicator bottles and color mixing bowls. Color developer, lightening powder and highlighting color are also often used in coloring hair. Foil sheets, processing caps and frosting needles are also supplies used in the hair coloring process.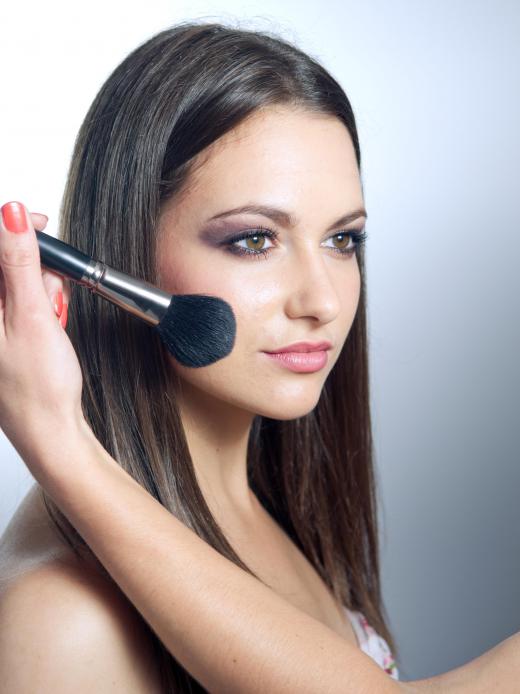 Beauty supplies to care for hair include brushes, combs and picks. Brushes come in a variety of types, including round, friction-free and vented brushes. Comb styles include lift, anti-frizz and detangling. Pick types include tortoise claw, styling and lifting.
Manicure beauty supplies include polishes, removers and tools. Nail polishes are available in colors, base coats and top coats. Nail treatment beauty supplies include ridge filler, strengthener and fortifier. Cuticle oil, remover and cream are some supplies used for cuticle maintenance.
Manicurists also use manicure sticks, bowls and creams. Toe and finger spacers, along with pedicure slippers and sterilizer jars, are also used. Nail files are plentiful and range from antibacterial and coarse grit to fine grit, cushioned files.
Hair removal and lightening products include wax strips, bleach and muslin strips. Razors, shavers and tweezers are also beauty supplies used for controlling body hair. Other supplies used to remove hair include shave gel, epilators and epilation cream.
Moisturizers and cleansers are skin care beauty supplies. Moisturizers include hand and body lotion, as well as firming lotion. Massage cream, brightening lotion and cocoa butter cream are also available. Moisturizers are available with a variety of ingredients, including aloe vera, olive oil and honey. Some moisturizers are made to lessen skin damage, such as stretch marks, while others are more therapeutic, such as foot creams.
Cleansers are available in gels, foams and astringents. Some cleansers are made for deep cleansing and facial scrubs, while others are milder on the skin and developed for everyday use. Cleansers can also have anti-aging and moisturizing properties.
AS FEATURED ON:
AS FEATURED ON:







By: Valua Vitaly

Toe spacers, slippers, sterilizing instruments, and polishes are supplies needed for pedicures.

By: Viktor Pravdica

Blush is used to change the color of cheeks.

By: sassyphotos

Aloe vera gel can be used to make natural cosmetics.

By: seen

Beauty supplies include shampoo, conditioner, lotions, moisturizers, and many other products.

By: svl861

Creams made from cocoa butters are a type of beauty supply.

By: javiercorrea15

Antiaging creams have become quite popular in recent years.

By: margo555

Olive oil can be used as a moisturizer for the face, hands, and nails.

By: Niceregionpics

Hairbrushes are used to keep hair healthy, and come in many shapes and sizes.

By: StockPhotosArt

Hand and body lotion is popularly used by both men and women.

By: fotomania777

Eye shadow comes in a variety of colors.

By: Valua Vitaly

Beautiy supplies include the tools needed for a manicure.

By: volff

Various beauty products come in cream form.

By: Valua Vitaly

An orange stick may be used to maintain cuticles.

By: Africa Studio

Baby shampoo is an effective eye makeup remover.

By: Coprid

A nail brush can be used to help keep the fingernails clean and free of nail bed infections.

By: Andres Rodriguez

Foil sheets are sometimes used in the hair coloring process.