What Are the Different Types of Hair Dryer Attachments?
Most hair dryers will usually come with a set of attachments to streamline the hair styling process. These hair dry attachments consist of a concentrator nozzle, a diffuser, a detangling comb, and a portable dryer bonnet to help set certain hair styles. These hair dryer attachments have certain functions, and will have a place in a person's hair care regimen depending on the type of hair that he or she has. 
A concentrator nozzle is the most common type of attachment that comes packaged with most hair dryers. These attachments essentially focus the hot air in a smaller area, increasing the velocity in order to dry the hair faster. Concentrator nozzles are more suitable for those who have thick hair or straight hair. The concentrated hair will allow for systematic drying, though concentrator nozzles may be too harsh on hair that has been chemically treated.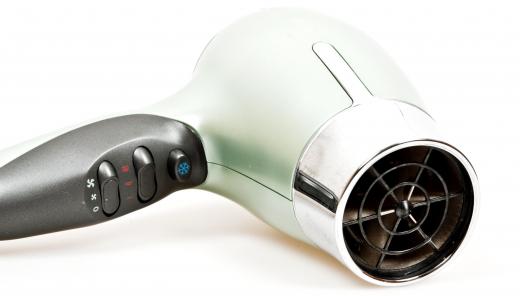 Diffusers are hair dryer attachments that are designed for curly hair. The air that passes through a diffuser is dispersed into many small holes, allowing for a gentler force of air, especially when compared to the air that comes out of a concentrator nozzle. The diffuser will help to preserve the natural curl pattern of the hair and to give it a softer finish. Hair that has been chemically treated in any way can also benefit from a diffuser, since it won't lift up the hair follicles.
Some hair dryer attachments will also include a detangling attachment. Detangling combs are beneficial for those who want to skip the detangling process of a hair styling regimen. It will comb out any knots and gnarls while drying the hair at the same time and the wide teeth will help to prevent potential breakage often caused by a brush on wet hair. 
To dry hair put up into a roller set, a portable hair bonnet dryer attachment is a great option. These bonnets allow a person to attach his or her hair dryers directly to them, essentially drying the hair with ambient heat. Hair dryer attachments like these can also help those who want to dry their hair without using direct heat on the hair causing potential damage. 
AS FEATURED ON:
AS FEATURED ON:







By: fuzzbones

Most hair dryers will usually come with a set of attachments to streamline the hair styling process.

By: puhhha

Hair dryers with concentrator nozzles are suitable for thick,straight hair.