What are the Different Types of Hosiery?
Hosiery comes in a number of shapes, sizes, and forms. Body stockings, thigh-high stockings, pantyhose, dress socks, anklets, knee-highs, and tights - each of these is a different form of hosiery.
Hosiery has a rich history. As early as 500 A.D., socks were created to provide warmth and protection to the feet. Hosiery gained notoriety in the 16th century when a pair of silk stocking was presented to Queen Elizabeth. These stockings led to the invention of a special knitting frame, which helped increase the output from a knitter's hands.
As more British people moved to America, they attempted to take the knitting machines with them. Strict penalties were imposed on anyone smuggling them out of England, but this did not deter the emigrants who hoped to start a new trade by producing hosiery in America.
In the mid-19th century, the first steam-powered hosiery machine was invented. Eventually, the introduction of cotton led to the demise of wool hosiery. In the 20th century, when nylon was developed, manufacturers began making hosiery from nylon. Nylon hosiery eventually gave way to spandex.
Body stockings are a one-piece form of full-length nylon hosiery that include a tank top and cover the entire body from the neck down. Covering the body from shoulders to toes, a body stocking provides extra warmth. Body stockings can also be used to help smooth out unattractive lines underneath clothing.
Thigh-high stockings are a type of hosiery that begin at the toe and have an elastic band at the top to prevent them from sliding down. Some have clips at the top to attach the thigh-high stocking to a garter strap. The lack of a waistline keeps thigh-high hosiery from bunching at the waist, yet the thigh-high length provides nylon coverage well above the level of the knee.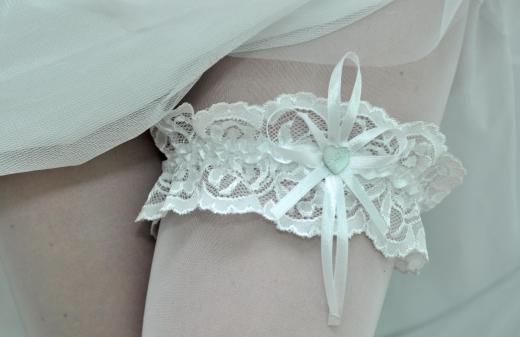 Pantyhose are another kind of hosiery that extends from the toes to the waistline. At the waistline, an elastic band keeps the pantyhose from falling down. Pantyhose can have a seam running up the back of the leg or they can be seamless. They can be made from nylon, spandex, lace, or silk. Pantyhose come in a multitude of colors and can be so sheer they look like they are the skin of the person wearing them.
Anklets and knee-highs are types of dress sock hosiery. Dress socks are made of thin material that prevents the shoes from feeling tight, but also prevents the shoes from rubbing on a person's foot. Anklets barely come to the anklebone, while knee-highs come to just below the knee.
Tights are another form of hosiery, but the material used to make tights is often denser than that of other hosiery types. Tights are never sheer and they come in a wide array of colors, patterns, and materials.
AS FEATURED ON:
AS FEATURED ON:







By: phiseksit

Silk cocoons. Silk can be used to make hosiery.

By: matusciac

Control top pantyhose contains extra fabric near the belly and hip area.

By: gaura_69

Some thigh-high stockings are secured with garters.

By: Monster

Knee-high stockings come to just below the knee.

By: emanuela carratoni

It is believed that socks were first used some 1,500 years ago.

By: winston

Dress socks are a common type of hosiery.

By: dmitri_gromov

The material used in tights is typically thicker than the material used for pantyhose.