What is Control Top Pantyhose?
Control top pantyhose are a type of nylons developed in the mid 1960s that are meant to provide extra support to the buttocks and especially the tummy, making wearing additional support garments for this purpose unnecessary. They came into style at about the same time that women began to stop wearing girdles, which were considered heavy and restrictive. Many styles feature a cotton crotch, and can be worn without any type of panties.
The panty section of control top pantyhose may feature panels or extra elasticized reinforcement. Most commonly, the panty part is somewhat restrictive due to the addition of Lycra® or nylon. Lycra® provides a firmer hold than does nylon, so it can keep the tummy tucked in and the buttocks slightly lifted. However, control top pantyhose are not miracle workers — they give slight hold, but will not completely eliminate what women might consider figure flaws.
Some women also prefer control top pantyhose because they avoid one fashion faux pas, the visible panty line. Especially when nylons are worn under pants or tight skirts, a line across the outerwear showing the panties is a fashion no-no. These pantyhose make a good replacement since they don't have a ridged panty line.
It's always important to purchase pantyhose in your appropriate size. If you happen to be a plus size, this is no problem. Numerous plus size clothing manufacturers make larger size control top pantyhose which will still give you a more smooth finish. Also valuable is finding the appropriate length. Most nylons, whether they are control top or not, will fit a woman of about 5 foot 8 inches (68 inches or 1.72 m) at most.
If you are taller, the pantyhose may tend to slide downward and will not long provide the control you seek. To this end, you can also purchase tall sizes, more commonly available at department stores. You may have trouble finding tall or plus sizes at local grocery stores or drug stores.
Some women don't like the extra reinforcement provided by control top pantyhose. You can certainly purchase nylons without a control top. On nylon packages these might be called "sheer to waist." Usually control top pantyhose will specifically state they are control top.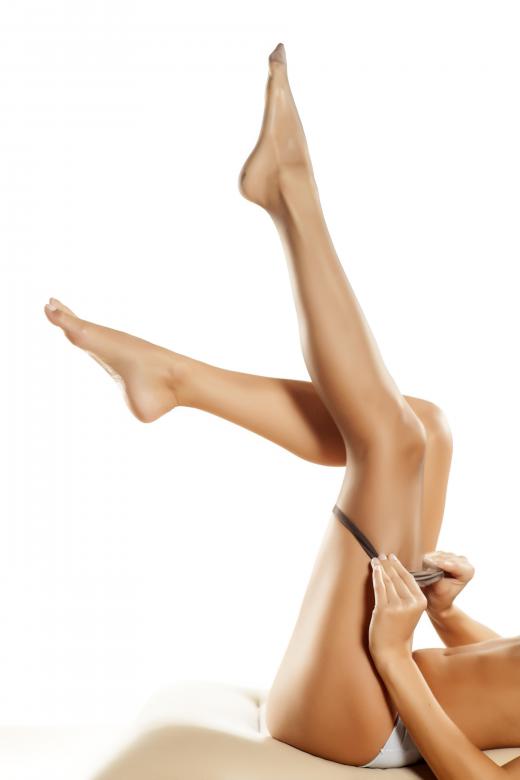 In the 2000s, wearing nylons or stockings became somewhat unfashionable, and the barelegged style became more popular. Many women missed the control top more than for the rest of the leg coverage they provided. To this end, Spanx®, were developed. These are similar to control top pantyhose but end above the knee, and rise slightly above the waist. They are becoming greatly popular as an alternative to both girdles and pantyhose, providing lightweight, smooth support.
AS FEATURED ON:
AS FEATURED ON:







By: matusciac

Control top pantyhose contains extra fabric near the belly and hip area.

By: ucius

Control top pantyhose is typically meant to be worn without underwear.

By: vladimirfloyd

Control top pantyhose are often preferred by women who wish to cover up panty lines.