Mannyhose are pantyhose designed to be worn specifically by men. Despite the somewhat silly term, mannyhose actually have some very practical uses, and some men simply enjoy wearing pantyhose, for a variety of reasons ranging from the desire to wick away sweat to a cross-dressing hobby. Mannyhose tend to come in a range of larger sizes, to accommodate the larger frames of men, and they are designed with a bit more room in front to accommodate the male anatomy. Men can also simply wear women's pantyhose, especially in areas where mannyhose are hard to find.
Historically, actors and dancers have often worn pantyhose, regardless of gender, to smooth out the appearance of their legs. The color of such hosiery can vary considerably, from a taupe designed to blend in with the skin to darker colors designed to offset costumes. Some athletes also wear mannyhose, especially winter athletes, because pantyhose can provide a layer of insulation from the weather while streamlining the body and preventing sores as skin rubs together or against clothing.
Horseback riders have also long been aware of the secret of mannyhose. A pair of pantyhose under riding gear can substantially reduce the risk of saddle sores, making prolonged rides more comfortable. However, it can also reduce friction on the saddle, which could be dangerous if a rider loses control of his or her horse, as the reduced friction could lead to a fall; some riders compromise by wearing half-hose to protect their thighs, leaving their calves uncovered so that they can still have a firm grip on the saddle.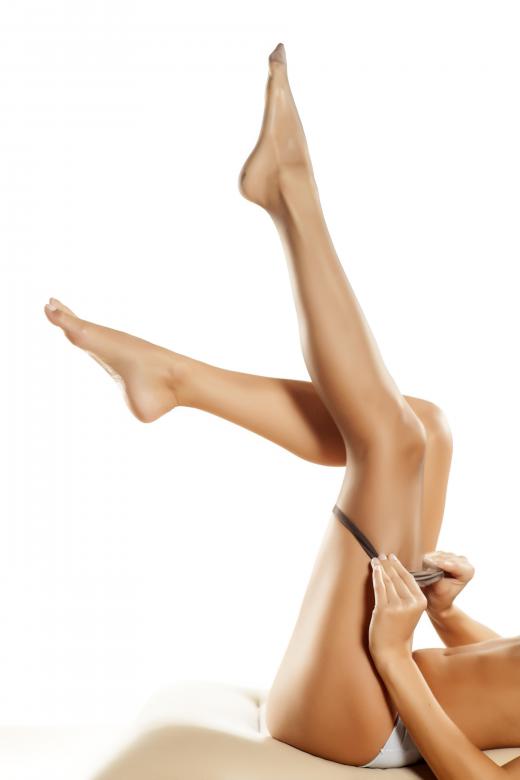 Several lingerie firms have recognized the interest of the male market, producing special lines of pantyhose which are specifically designed for men. Sizing for such hose is usually just like the sizing used for women, based on the height of the wearer and the inseam, and it is also possible to order custom mannyhose for men of unusual proportions. Firms which sell pantyhose designed for men usually do not use the term "mannyhose" in their product advertisements, incidentally, and sometimes it can be difficult to find a specific reference to hose, out of concern that some men might shy away from a product which too closely resembles women's wear.
Mannyhose have uses beyond simply being worn. Pantyhose and nylon stockings are used by some hunters to bag meat, protecting it from flies and other insects; while the result may look a little strange, it's quite beneficial in terms of food safety. Stockings can also be used to protect gun barrels from large particulate material like sand, when tied around the barrel, and of course pantyhose have long been used by criminals to obscure their facial features without impeding visibility.
AS FEATURED ON:
AS FEATURED ON:







By: joppo

Pantyhose and nylon stockings are used by some hunters to bag meat, protecting it from flies and other insects.

By: vladimirfloyd

Pantyhose is typically made specifically for women.