What Are the Main Mineral Makeup Ingredients?
Mineral makeup is made from minerals naturally found in the earth, and may be less irritating to those with sensitive skin or skin conditions. The three most common mineral makeup ingredients are titanium dioxide, zinc oxide, and iron oxides. Other ingredients may include plant extracts, silica, and different types of clay.
Titanium dioxide is one of the most common mineral makeup ingredients and is found in nearly all types and brands. It is also one of the most abundant minerals in the world. The white powdery substance makes a good base for other ingredients in mineral makeup and has the added benefit of acting as a sunscreen. While there is some evidence that the substance can be damaging to lungs if inhaled, it is typically considered safe. Titanium dioxide does not absorb into the skin, so it is unlikely to clog pores and cause acne flare-ups.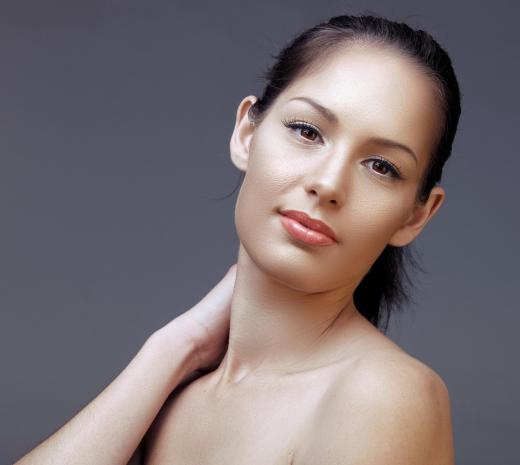 Along with titanium oxide, zinc oxide is one of the most popular base mineral makeup ingredients because of its ability to act as a sunscreen. Zinc oxide is not water soluble, which means it won't break down if exposed to water. While this mineral is safe for topical use, it can be dangerous if ingested, so it is best to keep mineral makeup out of reach of children.
Iron oxides are the mineral makeup ingredients most commonly used to color the product. There are several different types of iron oxide, including red, yellow, and black forms. Mineral makeup manufacturers use all three, either separately or together in different concentrations. Mixing the iron oxides with the other base ingredients in mineral makeup creates an array of different colors. Unlike the base ingredients, there is some concern that iron oxide can absorb into the skin, so those with skin conditions or allergies should consult their dermatologist before using.
While plant extracts typically do not make up the core mineral makeup ingredients, some manufacturers add them to enhance overall products. Green tea is one of the most popular plant extracts added to the makeup, as it may have antioxidant properties, although there is very little evidence to suggest that those properties pass through the skin. Other plant extracts may be used to color the makeup. Those who are allergic to certain plants should read the ingredients list carefully.
Clay in several different forms — especially mica clay — is also used as colorant mineral makeup ingredients. Like iron oxide, clay comes in numerous different earth-tone colors, from brown to red to beige, and can be diluted with the base ingredients to create the preferred color. While clay is typically safe for topical use, there are some concerns that it can cause respiratory problems when inhaled.
AS FEATURED ON:
AS FEATURED ON:







By: Lvnel

Natural makeup is often more attractive than caked-on makeup.

By: armina

Many mineral makeups contain titanium dioxide, which does not clog pores.

By: vvoe

Mica has long been used in cosmetics.