What Is a No-Chip Manicure?
A no-chip manicure is a hybrid type of gel manicure that claims to make nail polish last for up to two weeks. First, the nails are prepped by buffing and a swipe of alcohol to make the products hold longer. Then, a specialized base coat is applied, followed by several coats of a colored gel. The manicure is finished with a unique top coat. This manicure can only be done in a salon, and can only be removed with specialized acetone wraps.
Ensuring that the products used to create a no-chip manicure adhere to the nails is an essential step in the process. Before anything is applied, the nails are thoroughly buffed with a six-stage buffing process, working from medium grit to a smooth shine surface. Then, the nails are swiped with rubbing alcohol to clean them of any dust or dirt that may hinder the adherence of the product.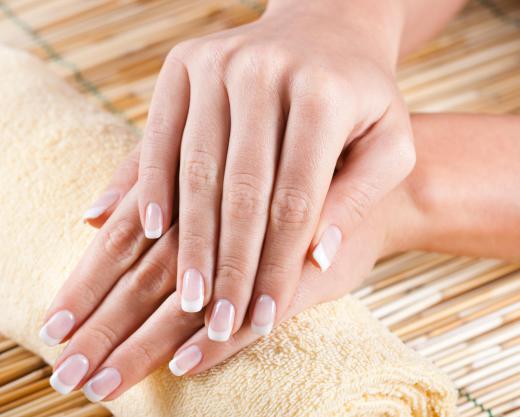 The first coat in a no-chip manicure is an ultra violet (UV) base coat. This is a thinner version of traditional gel nail treatments that helps to reshape the natural nail without adding any length, as well as protecting the nails from staining. Once applied, the coat is dried underneath a specialized UV light so that the nails can cure and harden.
Following the base coat, a colored gel product is applied to the nails in thin coats. Depending on the color, one to three coats may be needed for even coverage. This product is a mix of traditional nail polish and clear gel, providing optimal staying power. After the application of each coat, the nails are dried again under a UV dryer. Allowing the nails to fully cure between each coat is one of the primary reasons that this type of manicure can last so much longer than others.
For added shine and protection, a UV topcoat is applied after the color. This product is similar to the basecoat, both of which are based on a thinner version of traditional gel. This product helps to increase shine and protect the top layers of color from wear. As with other stages of a no-chip manicure, the topcoat needs to fully cure under a UV light.
The entire process must be performed in a salon by a licensed nail technician, as the products needed for a no-chip manicure are not available to the average consumer. Unlike regular nail polish, a no-chip manicure cannot be safely removed at home. Salons utilize acetone-soaked fingernail wraps to break up the gel coating and safely cause a separation between the product and the natural nail. Attempting to peel off a no-chip manicure or removing it at home can result in damage.
AS FEATURED ON:
AS FEATURED ON:







By: inesbazdar

The polish from a no-chip manicure should last up to two weeks.