What Is a Graduated Bob Haircut?
A graduated bob haircut is one where the hair is cut into a traditional bob style, then shorter layers are added on the top of the hair to create body and fullness. The graduated layers are often styled forward to create a face framing effect. This hairstyle is versatile and looks good on a variety of face shapes and hair textures.
In the traditional bob, the hair is cut with the ends blunt and all one length. While easy to style and maintain, the look can be severe or dated on some people. The graduated bob haircut offers a more updated and carefree look, while still being easy to maintain and style.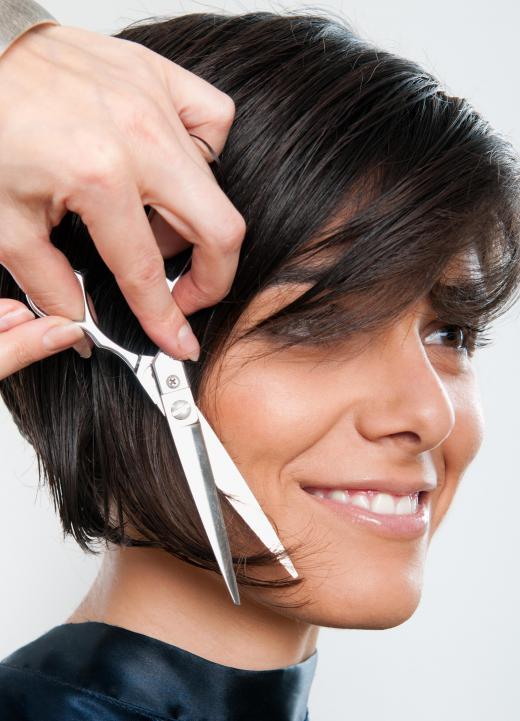 When choosing a haircut, and in particular a style such as the graduated bob, it is important to visit a stylist who is familiar with the cut and is able to recreate the look. While easy to style and maintain, the graduated bob haircut is tricky to cut. Selecting a hairdresser who is experienced with the look will yield the best results.
The first step in the graduated bob is to create a basic bob, with or without bangs. This gets the hair to the desired length, and creates a canvas to create the graduated style. The hairdresser will then begin adding layers, starting at the back of the head and working towards the front. The hairdresser pulls the hair away from the head and uses a sharp pair of scissors to cut in layers that are shorter toward the crown and longer toward the nape of the neck. She will leave the bottom line of the bob untouched.
Most hairdressers will cut the hair wet when styling a graduated bob haircut. This gives her greater control over the hair, and creates a very precise look. Cutting this way prevents the bob from looking shaggy and unintentionally messy. A good graduated bob haircut looks carefree, not sloppy.
The graduated bob haircut is simple to style. For day to day wear, spritz lightly with a volumizer to build body into the hair. Use a round brush and hair dryer to shape the hair towards the face, finishing with a light mist of hair spray. For a more formal look, use a shine spray and dress the look up with a embellished headband. The graduated bob is easy to secure into up-dos and ponytails because the side pieces, that typically come loose in shorter styles, are actually longer than the hair at the the back of the head.
AS FEATURED ON:
AS FEATURED ON:







By: Rido

A hairstylist cutting a graduated bob.

By: Lvnel

A traditional bob is cut with all ends the same length.