What Is an Eyeshadow Pencil?
An eyeshadow pencil can be a convenient item to use when applying makeup. This product is a small wooden stick containing eyeshadow in a powder or cream form. It is available in many different colors, including blue, green, purple, and brown. Applying eyeshadow in this form is done by gliding the end of the pencil over the eyelid and then blending the makeup with a small brush or fingertips.
Eyeshadow pencils resemble eyeliner or lip liner. They are both small or jumbo eyeshadow pencils, depending on their intended use. Small pencils normally have thin tips so they can also be applied as eyeliner. Large units typically have wider ends and are designed to be applied directly to the eyelid.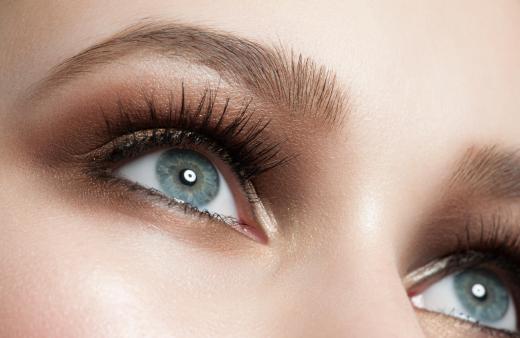 The type of eyeshadow found in one of these pencils is typically a cream formula, but an eyeshadow pencil may sometimes contain powdered eyeshadow. Both of these varieties generally glide on smoothly and evenly. This makes them good choices because this type of eyeshadow is normally applied without using a brush.
An eyeshadow pencil comes in many different colors. Green, blue, brown, black, and purple are popular choices. Some brands may also contain glitter. Although only one color is available in each pencil, it is acceptable to use more than one shade of eyeshadow pen to create a custom look.
Using an eyeshadow pencil is very easy to do. It is accomplished by gliding the end of the pencil over the top of the eyelid in order to allow the makeup to be released. This does not normally require a great deal of pressure. After applying the eyeshadow, the lines around the edges of the color can be smoothed with a makeup brush, cotton swab, or fingertips. If more than one shade is being used, all the colors should be applied before the eyeshadow is smoothed in order to make sure all the lines are completely blended.
An eyeshadow pencil should be kept clean in order to keep it from developing bacteria. A plastic cap should be placed on the end of the device whenever it is not being used. People should also be careful not to allow the end of the pencil to touch other objects, because this could cause the makeup to become contaminated. Using a pencil that is contaminated could cause the eyes to become irritated or lead to an infection, which could also affect the user's vision.
AS FEATURED ON:
AS FEATURED ON:







By: Mikhail Malyugin

Eyeshadow pencils are produced in a wide range of colors.

By: Nneirda

Eyeshadow may be used to enhance the color of one's eyes.

By: arturas kerdokas

The green color of a person's eyes may be intensified through use of eyeshadow.