What is an Organic Hair Relaxer?
The term "organic hair relaxer" is a misnomer. The United States Food and Drug Administration (FDA) has no standards for what makes a hair care product "organic." Instead, an organic hair relaxer will use ingredients with a lesser potential of hydrogen (pH) level than traditional hair relaxers combined with creams made of soy, olive oil, and other natural products.
Curly hair has certain chemical bonds which keep the hair in a curl. Putting in relaxer changes the pH, or acid levels, breaking down the hair and uncurling it. Traditionally, hair relaxers used lye as a main ingredient, which is highly acidic and can cause scalp burns if used improperly.
A trend towards using fewer chemicals and less caustic beauty products has led to some companies developing organic hair relaxers. Some of these products use sodium bicarbonate, an acid which is gentler than lye. Though this product occurs in nature, it does not mean that it can't still burn the scalp if used improperly. Even when used correctly, an organic hair relaxer can still cause hair to become brittle from chemical exposure.
Several brands of organic hair relaxer also come with conditioning creams made of soy, olive oil, and other trendy natural ingredients. At times, the product branding will focus more on the creams that come with it, creating misleading statements about how gentle it is on the hair. Many beauty experts recommend that anyone buying hair relaxer read the labels to see the relaxer's actual ingredients. Even lye-based products are sometimes marketed as "organic" when they are the same as traditional hair relaxers.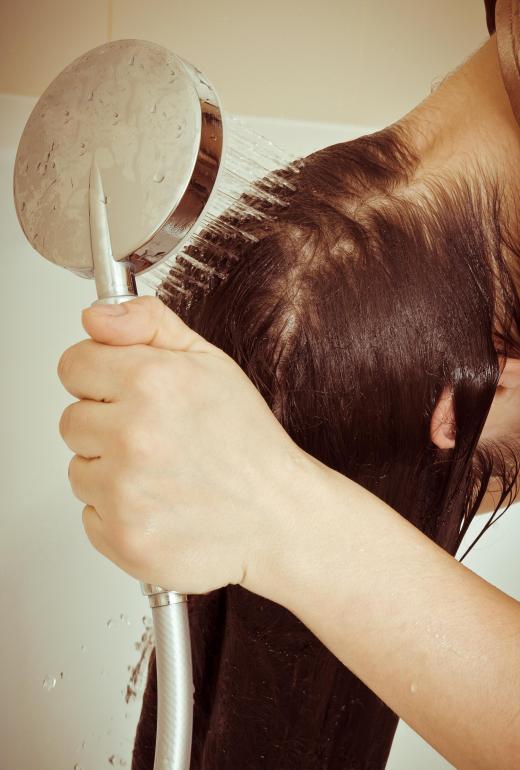 The results from using organic hair relaxers are also different from using lye-based ones. Some gentler hair relaxers will not make curly hair entirely straight. Instead, it will give it a soft wave. Many women using natural products will also take on shorter hairstyles which are easier to style.
Other hair care enthusiasts have eschewed using chemicals altogether. Instead, they recommend using less shampoo and product overall. This works best for very dry hair, since several types of hair products strip away the scalp's natural oils. As the scalp's natural oils return to the hair, it may become easier to comb and style, though it will not become straight.
AS FEATURED ON:
AS FEATURED ON:







By: Adam Engelhart

Lye, which is included in some organic hair relaxers.

By: sytilin

The effects of an organic hair relaxer are not typically as pronounced as from a chemical relaxer.

By: Roman Gorielov

Using less shampoo is actually one of the most natural ways to relax hair.

By: and.one

Hair relaxers are often used by African American women.

By: indiraswork

Some gentle hair relaxers are formulated specifically for use on thick, curly hair.

By: tycoon101

Several organic hair relaxer products are made with olive oil.

By: Valua Vitaly

A neutralizing shampoo is typically used during the process of relaxing the hair.