Dry nail polish is a film applied to the nail surface in place of traditional liquid polish. Since the nail polish goes on dry, there is no waiting time or risk of damaging the manicure. Once applied, dry nail polish is extremely durable, lasting about a week with no further care. Solid colors, graphic prints, and allover patterns are all available in this form. Since the polish strips are dry, they can be printed with images and applied without damaging the designs.
The application process for dry nail polish is simple. It will take about an hour for most people to complete the first time. Most dry nail polish kits come complete with everything needed for application.
To apply, open the package and choose the correct size nail polish strip for each nail. Peel the protective backing from a strip and place it on the clean, dry nail. Rub with the nail buffer to secure. Repeat for each nail; there is no need to wait for the nails to dry when the manicure is complete.
The finished look of a dry manicure is similar to that of a traditional manicure. Dry manicure strips come in solid colors and printed patterns, and can be mixed and matched as needed. As with a regular wet polish manicure, it can be difficult for an individual to polish her own dominant hand. Beginning with the non-dominant hand will help an individual master the application process before proceeding to the more difficult dominant hand.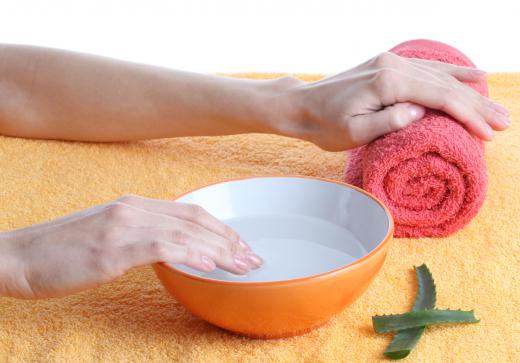 Individual dry nail polish strips can be trimmed with sharp scissors before the backing is removed. The better the strip fits the nail, the longer the manicure will last. Pulling the dry nail polish strip over the top edge of each nail will help prevent chipping and fading as well. For best results, nails should be clean, dry, and free of polish before the strips are applied. Pushing back the cuticle with an orange stick or the blunt edge of a file will increase the nail surface and extend the life of the manicure.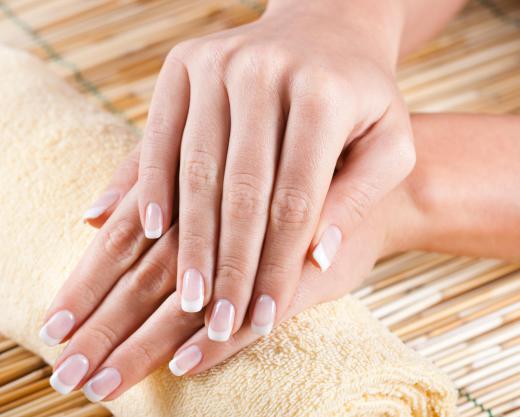 A manicure completed with dry nail polish strips is generally very durable. This type of manicure can be so durable that the strips can take some time to remove. The adhesive is thick and may require extra soaking in nail polish remover to completely eliminate the strip. While experiences will vary, individuals can expect to get about a week of wear from a dry polish manicure.
AS FEATURED ON:
AS FEATURED ON:







By: Farina3000

Dry nail polish lasts about a week.

By: Photographee.eu

Removing dry nail polish may require soaking the nails in nail polish remover.

By: inesbazdar

The finished look of a dry manicure should be similar to a traditional manicure.