Shimmer blush is a makeup designed to add color to the cheeks and, in some cases, other parts of the face. What distinguishes this blush from other types of blushes is that it contains reflective particles that give off shine or "shimmer." This can impart a dewy glow to the face and can create a dramatic look under the right lighting. Some makeup experts are not fond of shimmer blush, however, as they feel that the shimmer can draw attention to skin imperfections, make skin appear oily and actually age the wearer. Very pale shades of this type of blush can sometimes be used as a highlighter as well.
Cheek blush is available in several forms, such as creams, powders and even gels. Blush comes in a wide range of colors ranging from browns to light pinks. Many types of blush have a so-called "matte" finish, which means of the blush has no sparkle or shine added to its pigment. While matte blush is often most appropriate for daytime wear, some blush wearers appreciate the more dramatic look of shimmer blush which contains reflective particles that can catch the light. Shimmer blush is often worn as part of an evening makeup look.
Not everyone is suited for wearing shimmer blush as the reflective particles can sometimes be too harsh and obvious on some types of skin. This problem can be particularly obvious in photographs as the reflective particles can make the skin appear to be very shiny, which is not a flattering look. Other problems with shimmer blush include the fact that shimmer particles can accentuate skin lines and wrinkles.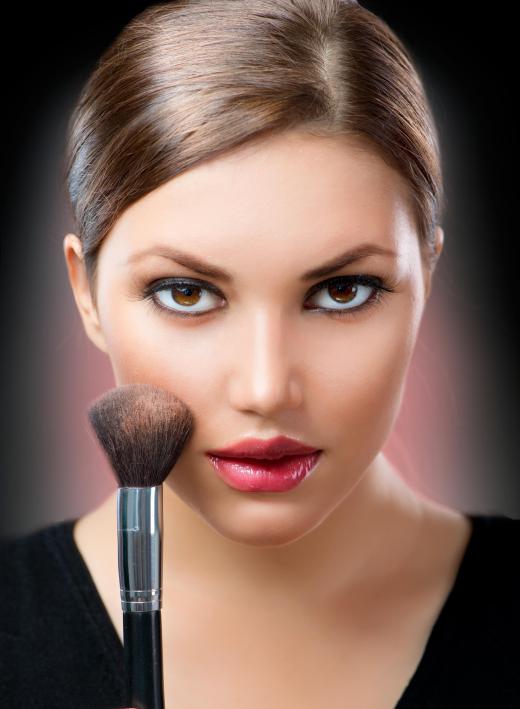 Not all types of server blush create a very obvious shine, however, and the right amount of shimmer can give the blush wearer a healthy look. Some blush wearers may also choose to use a light colored shimmer blush as a highlighting powder, which may be stroked over the tops of one's cheekbones, brow bones and on other features that the wearer wishes to highlight. Alternatives to wearing shimmer blush include applying a matte finish blush to the cheeks and then dabbing a small amount of highlighter on just the areas of the cheekbones that one wishes to accentuate. This can give the wearer more control of the amount of shimmer, or reflective particles, that appear on one's face, while still highlighting one's features and giving the appearance of youthful, glowing skin.
AS FEATURED ON:
AS FEATURED ON:







By: Vladimir Voronin

Shimmer blush may be applied to the cheeks to create a dramatic look.

By: Subbotina Anna

Some women prefer a light shimmer in their blush, while others opt for matte.

By: phasinphoto

Shimmer blush can be purchased in a range of colors from light pink to brown.

By: micromonkey

Shimmer blush can be used on a multitude of skin complexions.

By: Doruk Sikman

Leaving blush on the skin overnight may cause the pores to become clogged.

By: Tanouchka

Shimmer blush is typically applied after foundation.