What is Shimmer Eyeshadow?
Shimmer eyeshadow is a type of cosmetic that is applied to the eyelids, brow bone, and corners of the eyes. Shimmer eyeshadow contains small particles that reflect the light, as opposed to matte eyeshadow, which does not. Both types of eyeshadow add color, interest, and depth to the eyes, and are worn by many women as part of their every day beauty routine.
Shimmer eyeshadow may be used in conjunction with matte eyeshadow for a pulled together look, without going overboard with the sparkle. For example, some people choose to only apply this type of shimmery eyeshadow on the brow bone and the inner corners of the eyes, but use matte eyeshadow for the eyelids. This then highlights the brow bone and the eyes, making them look brighter and more open, and making the wearer look more awake.

Shimmer eyeshadow comes in virtually any color imaginable, in warm colors and cool colors. Warm colors of eyeshadow might include reddish pinks, browns, or warm purples, while cooler colors might include blues, greens, cooler pinks and purples, or silver and white colors. Silver and white eyeshadows are typically only used to highlight the eyes, and not as a color for the entire lid. Generally, it is a good idea to try to match one's makeup tones to one's skin tone; i.e., those with a cool skin tone should wear cool makeup colors.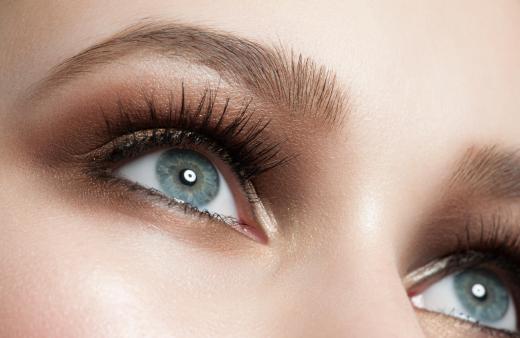 Eyeshadow may often be purchased in pre-made color packs that include a set of three or more complementing colors. This can make selecting eyeshadow colors much easier, and ensure that the colors all match. In general, it is a good idea to use the darkest color almost as an eyeliner, on the outer corner of the eye; the middle color on the eyelid and the crease of the eye; and the lightest color as a highlighter.
Be judicious when using shimmer eyeshadow, and use it in moderation. Too much can make one look too young or immature. Remember, makeup should be used to highlight one's existing features. Pair a strong eye made up with shimmer eyeshadow with a paler lip, for example, to avoid looking unnatural. In addition, it is important to always remove makeup before going to bed at the end of the day; use a gentle makeup remover on the eyes, and do not pull or tug on the eyes when applying or removing makeup. Over time, this can stretch the skin and cause wrinkles to form.
AS FEATURED ON:
AS FEATURED ON:







By: phasinphoto

Shimmer eyeshadow contains particles that reflect light.

By: Mikhail Malyugin

Some shimmer eyeshadows are made in neutral colors that have a pearlescent sheen.

By: Nneirda

Many cosmetics companies create palettes of eyeshadow based on eye color.

By: arturas kerdokas

Shimmer eyeshadow may help bring out the color of a person's eyes.

By: Minerva Studio

Shimmer eyeshadow may be used to add color to the eyelids.