What is the Difference Between Cream Blush and Powder Blush?
Blush is a cosmetic product primarily used to add a rosy hue to the cheeks. It is typically available in shades ranging from pale pink to bronze. There are two main forms of blush: cream and powder. The difference in the textures of the blushes can alter the appearance it gives the cheeks. The precise application method may also vary between the two blush types.
Cream blush is a smooth textured product that usually comes packaged in a small pot or other shallow container. It can be applied with either the fingers or a soft makeup sponge because it can be spread and blended into the skin easily, due to its creamy consistency. Some makeup wearers may like to use cream blush over other types because it often gives a slight sheen to the cheeks. It is typically more pigmented than powder blush and adds more color per application, which may be preferable to those who want heavier cheek color.
The major difference between cream and powder blush is that powder blush is dry and has a lighter texture. It is available both in a loose version and a solid pressed version and is applied to the cheeks with a brush. Those who use powder blush may prefer its sheer color, which allows them to control the intensity of the color by choosing to apply thin layers until they reach their desired appearance.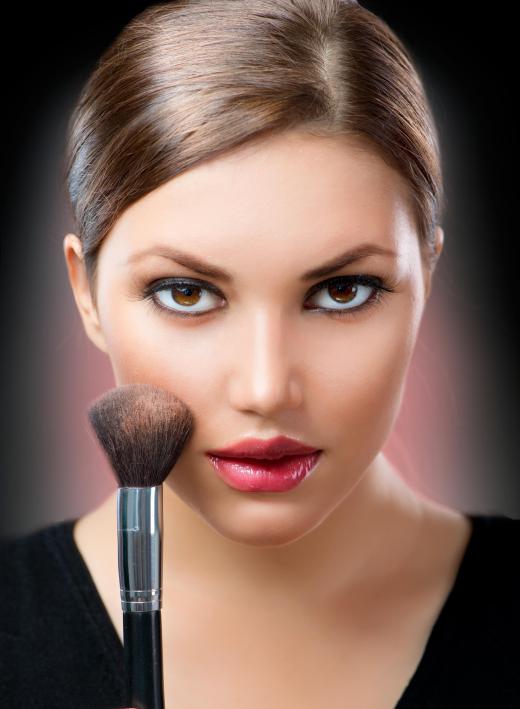 Choosing between cream and powder blush can also depend on the wearer's skin type. Applying powder blush onto dry skin can cause skin irritation, so those with dry skin may have better results with cream blush. Its glossy texture may add much needed moisture onto the dry skin. Using powder blush on dry skin can also draw attention to any skin flakes or cracks because the powder particles may cling to them or sink into any crevices. Conversely, cream blush may not be suitable for oily skin because it may accentuate shine. If oily skin is especially slick, the product may not be able to properly adhere to the skin and could require constant reapplications to maintain the cheek color.

Cream and powder blush may also react differently when paired with other makeup products, such as foundation and concealer. Cream blush tends to work most effectively when it is applied directly onto either bare or lightly moisturized skin, rather than layered on top of heavier makeup products. If the cream is rubbed onto thicker makeup products, it can build up and look darker or clumpier than intended. Since powder blush is lighter, it may work better for those who wear full coverage makeup.
AS FEATURED ON:
AS FEATURED ON:







By: Vladimir Voronin

Blush enhances the cheekbones.

By: Subbotina Anna

Powder blush typically has a much lighter texture and color than cream.

By: phasinphoto

Powder blush may be purchased in solid, pressed form.

By: Doruk Sikman

Using cream blush on oily skin may cause the pores to become clogged.

By: Tanouchka

Cream and powder blush may react differently when paired with other makeup products.