What are the Different Types of Bras?
When bras were first developed in the 1920s, they were simply undergarments that provided strong support for women's breasts, preventing problems like sagging breasts and backaches. Today, designers and manufacturers worldwide have added to the value of a bra by offering women close to 20 different styles to fit their needs:
1. Training bra. This type of bra is designed for preteen or teenage girls who are in the early stages of breast development. It is smaller than standard bra sizes, and its cups come without underwire support. Aside from providing some measure of breast support, it helps young girls to become accustomed to wearing a bra.
2. Full cup bra. This bra provides full support, as it comes with underwired cups and covers most of the breasts. It is recommended for all women, and especially for those with heavier breasts.
3. Demi cup bra. A demi cup bra covers only half the breasts, with its cups coming up above the nipples. This bra is suitable to wear with clothes that have plunging necklines. It is supportive, yet provides maximum exposure of the breasts.
4. Padded bra. This bra comes with padding inside the cup linings, adding volume to smaller breasts. Padded bras are popular with teenage girls, who may otherwise stuff their training bras with tissues to make their breasts look fuller.
5. Underwired bra. Bras can come with or without underwire in their cups. An underwired bra provides strong support to the breasts and also maintains the shape of the bra. Some women claim that underwired bras lift their breasts, while others find these bras uncomfortable or painful.
6. Strapless bra. Strapless bras come with no straps or straps that can be removed. This style is very useful for clothes that bare shoulders, such as tube dresses and halter tops.
7. Convertible bra. This bra comes with detachable straps that can be arranged according to one's needs. It is usually worn with clothes that reveal the back and shoulders, such as backless dresses with halter top necklines.
8. T-shirt bra. T-shirt bras are made without a raised seam in order to appear invisible when worn under a body-fitting t-shirt.
9. Minimizer bra. This bra is commonly sought after by large-breasted women who wish to reduce the appearance of their breasts by a cup size or two.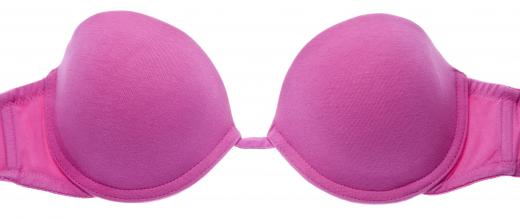 10. Maximizer/Push up bra. These bras lift the breasts and emphasize cleavage through their unique structure and extra padding. The padding may come in various forms, such as water sacks or silicone inserts. The goal is to give a fuller, more natural look to breasts of all sizes.
11. Sports bra. Sports bras are made for active women who engage in rigorous physical exercise. They are designed to be comfortable and supportive by holding the breasts in place during motion, therefore reducing damage to soft tissues of the chest. These bras are usually made of stretchable material to provide a snug fit.
12. Built-in bra. A built-in bra is one that comes with the clothing, eliminating the need for a separate bra. This style can be found attached to the insides of swimsuits and tube tops. Some built-in bras are just horizontal, elastic fabric, but others have padding and underwired cups as well.
13. Shelf bra. This bra covers only the lower part of the breasts, leaving the nipples and upper part of the breasts exposed. It is not supportive and is worn in sexual situations.
14. Peephole bra. A peephole bra features holes around the nipples. Its loose coverage of the entire breasts is insufficient to provide significant support. This type of bra is also worn in sexual situations.
15. Maternity bra. Women's breasts become more sensitive, heavier and larger throughout pregnancy. Maternity bras are adjustable and can expand to take these changes into account.
16. Nursing bra. These bras are worn to ease the breastfeeding process. They are made with flaps that can be unclasped or pushed to the side, keeping the breasts supported during breastfeeding.
17. Mastectomy bra. A mastectomy bra is intended for women who have undergone the removal of one or both breasts due to cancer treatments. Here, the cups are made with pockets to keep breast prostheses in place and simulate the existence of breasts.
Choosing a suitable bra is indeed a challenge these days. One bra does not fit all, and hence, it is best to invest in a good set of bras that cover one's usual range of activities. For instance, a regular jogger should purchase a good sports bra, while a more social woman should spend on convertible bras that fit her many formal evening outfits.
AS FEATURED ON:
AS FEATURED ON:







By: Graça Victoria

A beige underwire bra.

By: Brooke Becker

A purple strapless bra, worn with beneath garments such as halter tops and strapless dresses.

By: Karen Roach

A sports bra, designed to support the breasts while in motion.

By: Ariwasabi

A woman wearing a tank top with a shelf bra.

By: Africa Studio

A demi-bra is useful for low cut shirts.

By: hartphotography

Women of different body types can benefit from different bras.

By: Roman Samokhin

Padded bras make the breasts appear larger than they are.

By: evgenyatamanenko

Nursing bras support the breasts while allowing access for breastfeeding.