What is Eyeshadow Primer?
Eyeshadow primer is a cosmetic that is used to coat the eyelids prior to the application of eyeshadow so that the makeup can be applied in a smooth, even layer, and so that it will stay in place on the eyelid. Some people find that creases appear in their eyeshadow during the day as the result of simply blinking and normal eye movements. Primer works to keep these creases from appearing and can also help to boost the vibrancy of the eyeshadow color.
Most kinds of eyeshadow primer come in either a tube or small tub and are applied either with a brush or with a wand with a soft end. A concealer brush can be used to apply it as well. Although there are slight variations in the colors of the primer, most come in shades that blend in with most skin tones. This is because the purpose of the primer is not to accent the eyelids with color, but to prepare them for eyeshadow that will serve that purpose.
Although the primer has a slightly wet consistency, it dries quickly once it is applied. In order to make sure that it dries correctly, the cosmetic should be applied in a thin, even layer. Once it has dried, there is a smooth, even surface that will accept eyeshadow well and will work to keep it in place. The principle behind the use of eyeshadow primer is quite similar to the principle behind using primer on a wall: creating an even layer of the product covers the structure beneath and creates a better surface for the top coat of product.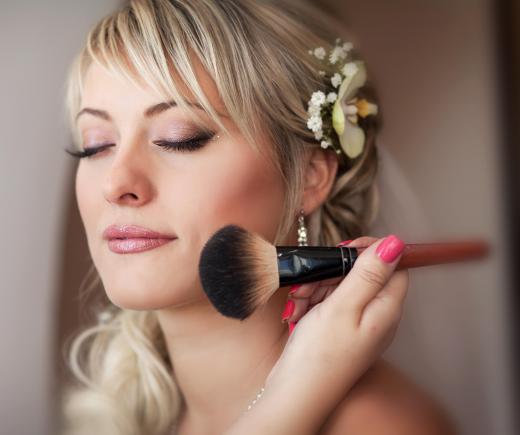 This cosmetic can be especially important to people who spend their days in warm or humid conditions. The condensation of humidity or sweat on the eyelids can cause eyeshadow to crease, move, and even run, and using a primer can keep this from happening. The product can also be important for people who like to wear very dramatic eyeshadow, which, if smudged, can go from looking beautiful to messy in the blink of an eye. By simply keeping the eyeshadow in place, primer eliminates this problem.
AS FEATURED ON:
AS FEATURED ON:







By: studiovespa

Eyeshadow primer can be applied with a makeup brush.

By: armina

Cosmetics companies sell not only eyeshadow primer, but also primers for other areas of the face.

By: phasinphoto

Eyeshadow primer gives eyeshadows added over top a stronger surface to adhere to.

By: Mikhail Malyugin

It's wise to choose a primer in a neutral color that can be used under most shades of eyeshadow.

By: Minerva Studio

Sharing make-up brushes with other people may spread bacteria and irritate eyelids.