What is Glyceryl Stearate?
Glyceryl stearate is a wax-like chemical product manufactured from glycerin and stearic acid. The ingredient is often found in cosmetics and skin care products, such as lotions, creams, and cleansers. It acts as a lubricant and helps make the skin soft and smooth.
This wax-like ingredient often found in cosmetics and skin care products is derived from several sources. Palm kernel oil, soy oil, or vegetable oil are among the possible sources. The ingredient is also naturally manufactured by the human body. It may also be referred to as glyceryl stearate monostearate on labels and product data sheets.
Other properties of glyceryl stearate make it ideal for cosmetic and skin care use. The ingredient helps form a barrier on the skin and limits the amount of moisture loss the skin experiences. Protection from free-radicals is another touted benefit of using the ingredient in skin and cosmetic products. Some examples of potentially damaging free-radicals include those given off by pollution, cigarette smoke, and radiation. Free-radicals accumulate and become more damaging with age.
Cosmetics utilize this ingredient in a variety of ways. In foundations, glyceryl stearate can help with the smoothness and feel of the product on the skin. It can also help fill in fine lines and wrinkles, leaving the skin with a smooth appearance.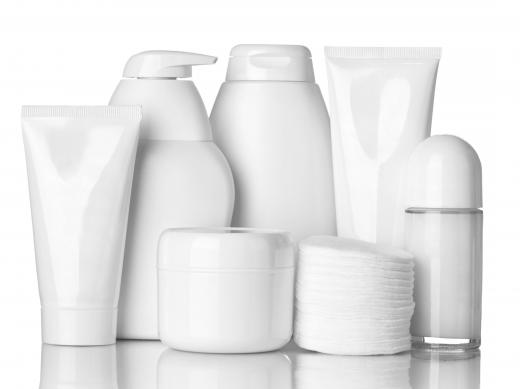 Skin care products such as lotions and creams also utilize the ingredient for many of the same purposes as foundations. Lotions and creams help moisturize skin and prevent skin cracking and drying, a result of including glyceryl stearate in the product. Other skin care products which contain the ingredient include sunscreen products.
Other cosmetic products also use this substance as an ingredient. This includes mascara, eyeliner, and eye shadow. The properties of the ingredients helps keep mascara from clumping, eye shadow go on smoothly, and eyeliner maintain a smooth feel.
There are other purposes for including glyceryl stearate in cosmetic and skin care products. The ingredient helps prevent freezing and also eliminates surface crust on products such as creams and lotions. Reducing the greasy feeling in products is another benefit.
Experts recommend storing any products containing this chemical in a sealed container and away from both heat and light sources. A good suggestion is to store these products in a sealed medicine cabinet. Although this chemical is considered safe as an ingredient in consumer products, those in the lab should take precautions when handling it in its raw form.
AS FEATURED ON:
AS FEATURED ON:







By: ctvvelve

Glyceryl stearate helps eye shadow to go on smoothly.

By: picsfive

Glyceryl stearate can be found in many skin care products.

By: picsfive

Stearic acid is one of the most common, naturally occurring fatty acids.

By: Ariwasabi

Glyceryl stearate helps keep mascara from clumping.

By: BlueSkyImages

Individuals who are allergic to glyceryl stearate may opt for permanent makeup tattoos instead of traditional products.

By: Photographee.eu

Glyceryl stearate may help protect skin from the effects of free radicals caused by smoking.

By: Antonioguillem

Some sunscreens list glyceryl stearate as an ingredient.