Lip primer is a cosmetic product designed to be worn underneath lipstick, lip liner, and/or lip gloss. It is a type of makeup that acts like foundation for the lips, similar to the foundation one might apply to the face. It is typically clear, matte, and meant to be unnoticeable on the lips, but it serves the purpose of smoothing the appearance of the lips, as well as making lipstick or other lip cosmetics last longer.
Lip primer is generally sold in a twist-up tube similar to a lipstick, though it may also be sold in a squeeze tube. It can usually be found with the lipsticks and other cosmetics in a store selling makeup. It is typically comparable in price to a tube of good-quality lipstick. Another, less common type of primer is sold in pencil form, and may be used to simply line the edges of the lips to prevent lipstick feathering.
Lip primer is not meant to be worn on its own. To wear it, simply apply a thin coating to lips that are clean and dry, prior to applying any other lip cosmetics. Give it a few seconds to dry on the lips, then apply lip liner, lipstick, or lip gloss right on top of it. The primer will help to fill in any lines, wrinkles, or uneven places on the lips, giving them a smoother appearance. Throughout the day, the primer will also help the lipstick or lip gloss to stay in place, preventing unattractive feathering at the edges of the lips, and helping to prevent smudging and creasing.
Many lip primers have other benefits as well. Some are designed to help plump the lips. Others may include sunscreen, typically around SPF 15, to protect the lips from sun damage, which could easily cause more wrinkles, or even skin cancer. Antioxidants and vitamins A, C, and E are popular inclusions, as well as ingredients with anti-aging properties that may help fill in wrinkles and give lips a more youthful appearance.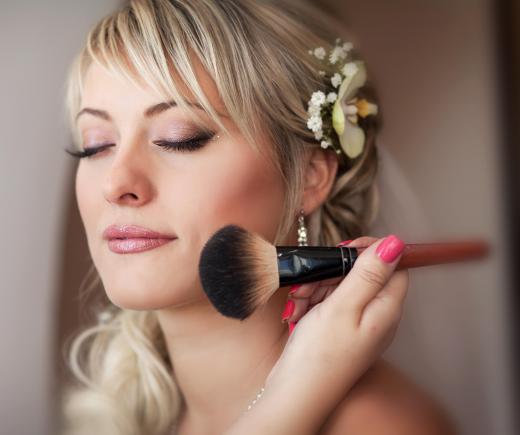 It may not be necessary to wear lip primer every day, but many people find it useful when wearing especially dark or brightly colored lipstick. In addition, because it may help to protect and soften the lips, it is likely to be a helpful addition to anyone's makeup bag. Keep in mind that it may be particularly important to wear lip primer at a special event where numerous photographs are being taken, such as a wedding or other celebration.
AS FEATURED ON:
AS FEATURED ON:







By: Gennadiy Poznyakov

Lip primer may be stored in a makeup bag.

By: starush

Lip primer should be applied before lip liner and lipstick or gloss.

By: armina

There are many makeup primers on the market, including those for lips and eyes.

By: alex83ch

Some lip primers are designed to make lips appear more plump.

By: Ferrante Pietro

Some brands of lip primer contain sunscreen ingredients that can help prevent sun-related damage.

By: amaxim

Some choose to apply lip gloss underneath their lip primer.