What Is Mineral Eyeliner?
Mineral eyeliner is an eye cosmetic that typically receives its color from pigmented minerals. This type of eyeliner can come in several different forms, including creams, pencils and liquids. It is also possible to use a mineral eyeshadow as eyeliner, by using a damp or dry brush to apply the shadow around the eyes. Many people choose to use mineral cosmetics as they perceive them as being more natural than conventional products. It is important to note however, that many types of mineral eyeliner typically contain ingredients other than minerals. These ingredients stabilize the minerals, making them much easier to apply.
Many people wear eyeliner to enhance the appearance of their eyes. Eyeliner is typically applied after eyeshadow but before mascara. Properly applied eyeliner can make lashes appear fuller and thicker and draw attention to a person's eyes, in some cases making them appear larger than they actually are. Eyeliners are sold in many different forms, including pencils, creams and liquids. Individuals who are enthusiastic about mineral cosmetics, which are made from crushed minerals in a variety of colors and shades, often seek out mineral eyeliner as an alternative to other types of products.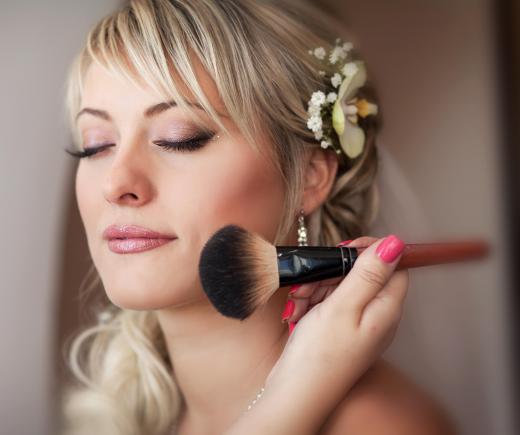 For purists, the best type of mineral eyeliner may be mineral eyeshadow. Mineral eyeshadow may be made entirely from crushed minerals and thus be free of other, possibly irritating, ingredients. On the other hand, some people may find it difficult to use eyeshadow as an eyeliner or may prefer a more dense pigment as well as a longer-lasting product. Some mineral makeup companies have created mineral eyeliner that uses mineral pigments along with several other types of ingredients. The ingredients that one might find in mineral eyeliner include various waxes and oils that can create a softer product that will adhere to the skin more firmly than a powder. Those who use mineral makeup due to highly sensitive skin may need to try out several different types of mineral eyeliner before finding one that does not cause irritation.
The choice of mineral eyeliner is primarily up to the consumer, and many makeup wearers have their own preferences when it comes to eyeliner and other types of cosmetics. Many people appreciate the convenience and control that a eyeliner pencil can offer, but cream and liquid eyeliners can often provide a more dramatic effect. Some people choose to work with different types of eyeliners depending on the makeup look that they are going for.
AS FEATURED ON:
AS FEATURED ON:







By: armina

Mineral eyeliners are sold in various formulations, including gels and pencils.

By: bedya

Eyeliner is typically applied after eyeshadow but before mascara.

By: Mikhail Malyugin

Some eyeliners and eyeshadows are made with crushed minerals that can impart a subtle sheen.

By: Minerva Studio

Sharing make-up applicators with other people may spread bacteria and cause conjunctivitis.