Pearl eyeliner is a type of eye makeup that has a luminous, rather than a matte, surface finish. While other types of eyeliner are usually solid pencils, many brands of pearl eyeliner are formulated as liquid eyeliner instead. The liner is swept in a thin line along the rim of each eye with a small brush, and a neat application of any kind of liquid liner can often take patience and practice. Although black eyeliner remains among the most popular colors, some users like to apply small amounts of colored pearl eyeliner to the inner corners of their eyes for a widening and brightening effect.
Common shades of pearl eyeliner are violet, bright blue, silver, and deep green. Each of these liners dries with a fine pearlescent sheen that catches small amounts of light. Since eye makeup application in general follows the artistic rules of color, light shades expand and dark ones recede. Lines of black painted along the entire rim of the eye can easily have a narrowing effect that overwhelms the natural eye color. Many makeup artists recommend applying black liner to only the outer and middle portions of the eye rim and colored pearl liner to the inner portion.
Selecting the correct shade of pearl liner can sometimes take some guesswork. Makeup experts sometimes recommend light shades, such as silver, for dark eyes, though some bright jewel colors can work as well. Eye makeup colors are usually selected according to the rule of opposites on a standard color wheel. Eyeliner shades of rose or violet look the most striking when applied to blue or green eyes for instance, as the luminescence in pearl liner also helps capture light reflected in the different colored flecks in the eyes.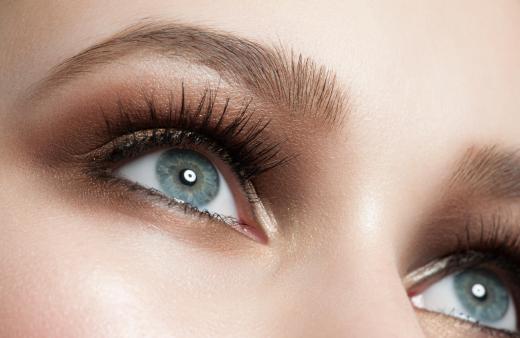 Applications of pearl eyeliner often have the best results when the colored liner is applied sparingly and with thin brushstrokes. Thick and heavy liner often detracts from the overall eye makeup appearance. If colored pearl liner is used with black liner, most experienced makeup users advise blending in the lines of demarcation between the two types of eyeliner with a separate makeup brush. Makeup users who apply fresh pearl liner usually only have to wait a few seconds for it to fully dry, although rubbing the eyes can sometimes smudge it. Just as with other liquid liners, most pearl eyeliner brands are not waterproof and can be cleaned off fairly easily with eye makeup remover.
AS FEATURED ON:
AS FEATURED ON:







By: mikelaptev

Many makeup artists recommend applying pearl eyeliner to the inner portion of the eye rim.

By: Mikhail Malyugin

Many pearl eyeliners are not formulated to be waterproof.

By: FotolEdhar

Before applying eyeliner, check that the product has not expired, as this can cause irritation or infection.