What are the Different Types of Eye Makeup?
There are many types of eye makeup, which is typically seen as cosmetics to be applied to the faces of women in the modern Western world. This was not always the case, and people can think back to examples in ancient Egypt when virtually all people lined their eyes with kohl. Throughout history, men and women have used a variety of different makeup on the eye to emphasize them, to make them more attractive, or merely because it was convention to do so. Today, however, eye makeup can usually be split into three major groups, eye shadow, eyeliner and mascara or other treatments for the eyelashes.
Eye shadow is coloring worn on the upper lids to right below the brows. It can be made in various types. Powder shadows can be applied with fingers or with application tips or brushes. Liquid, frost or mousse eye shadows are also available and these can be applied with makeup sponges or fingers.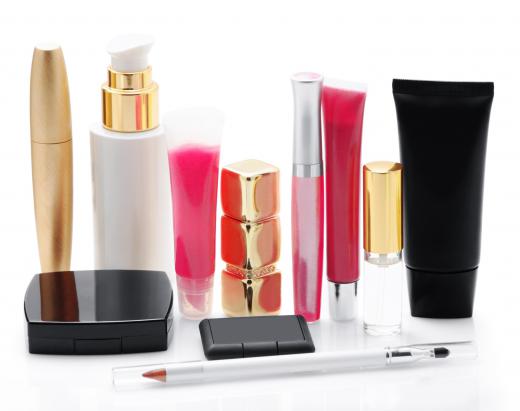 Sometimes eye shadow pencils can be found and there are even kits that are used for putting on different eye shadows at the same time to achieve the smoky eye look. These usually come in eye shaped ovals and are pressed to the eye to get the appropriate shadowing colors. Eye shadow colors can vary and can be anything from natural colors that slightly tint skin to drastic never designed by nature colors or even black, and color choice for each individual depends on taste and desired finished look.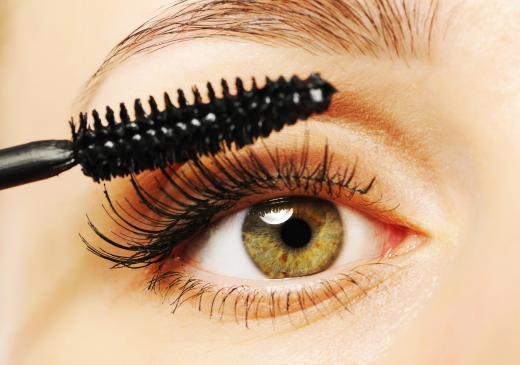 Eyeliner, as previously mentioned, is one of the types of eye makeup that has been popular in the human world for millennia. Eyeliners may come in powder, pencil or liquid form and can be applied just above and below the eye the lids to add drama. Some eyeliner can be slightly smudged or smeared to apply a little color to the lids too. Typical colors are brown and black, but other colors like gray, silver, blue and green may be chosen too, and a few unusual colors include purple and pink.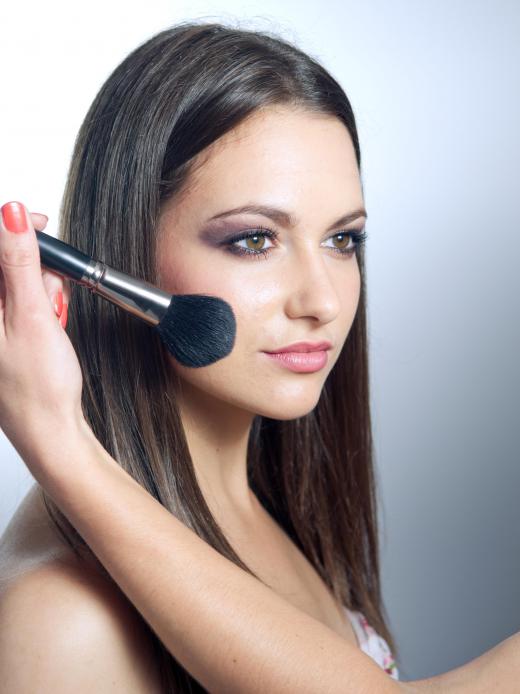 Mascara is eye makeup for the lashes. It is meant to emphasize long lashes, and usually is applied in a sweeping upward fashion on the bottoms of the top lashes, and downward on the tops of the bottom lashes. Some women who have very thin lashes may also use false eyelashes, either a whole set, or one or two lashes in areas where their own lashes need thickening. These are usually applied with special glue that will keep the lashes on, but not make them too difficult to remove.
Other types of eye makeup can include foundation for the eyes or spot treatments under the eyes in skin colors that may partially cover dark circles. Alternately, some women use eye pencil brow liners to draw in the brow. An alternative is eyebrow gel, which can help shape bushy brows by sweeping them into place.
It can be difficult to determine exactly what eye makeup is required if any. Generally the least amount is worn during the day, but for evening events, women will wear a little more to emphasize the eyes. There are many makeup tips for determining most flattering colors and application methods for day and evening wear, for relative age, to address faults in the skin around the eyes, and for skin tone.
AS FEATURED ON:
AS FEATURED ON:







By: adisa

Makeup, including eye makeup.

By: haveseen

A woman applying mascara to her eyelashes.

By: Viktor Pravdica

A woman with smoky eyes has blush applied to her cheeks.

By: ctvvelve

Eye shadow gives color to a person's eyelids.

By: cedrov

Eyeliner is commonly used to highlight the eyes.

By: Emilia Stasiak

Makeup remover may be used to remove eye makeup without causing eye irritation.

By: Andriy Petrenko

An eyebrow brush may be used to apply a darkening powder to the eyebrow.

By: BlueSkyImages

Eyeliner applications are often the most common task for permanent makeup artists.